Providing ABA therapy in Vancouver, serving Southwest Washington.

Skipping Stones utilizes Applied Behavior Analysis (ABA) to provide evidence based individualized intervention to support in your child's development to create socially significant changes by teaching new skills, establishing replacement skills, and reducing challenging behavior to help every child live their most productive lives. Treatment is provided across several treatment domains.
Center-Based ABA
ABA is the most recommended and widely used approach in working with children diagnosed with autism spectrum disorder. ABA is proven to make socially significant impacts in the child's and their family's life. Skipping Stones uses ABA practices to increase social communication and interactions and reduce restrictive and repetitive behaviors as well as target the reduction of maladative behaviors.
Our services primarily take place in the center setting. We provide 1:1 center-based services because it gives us access to Natural Environment Training (NET), a controlled Environment, increased social opportunities, and increased staff training and oversight.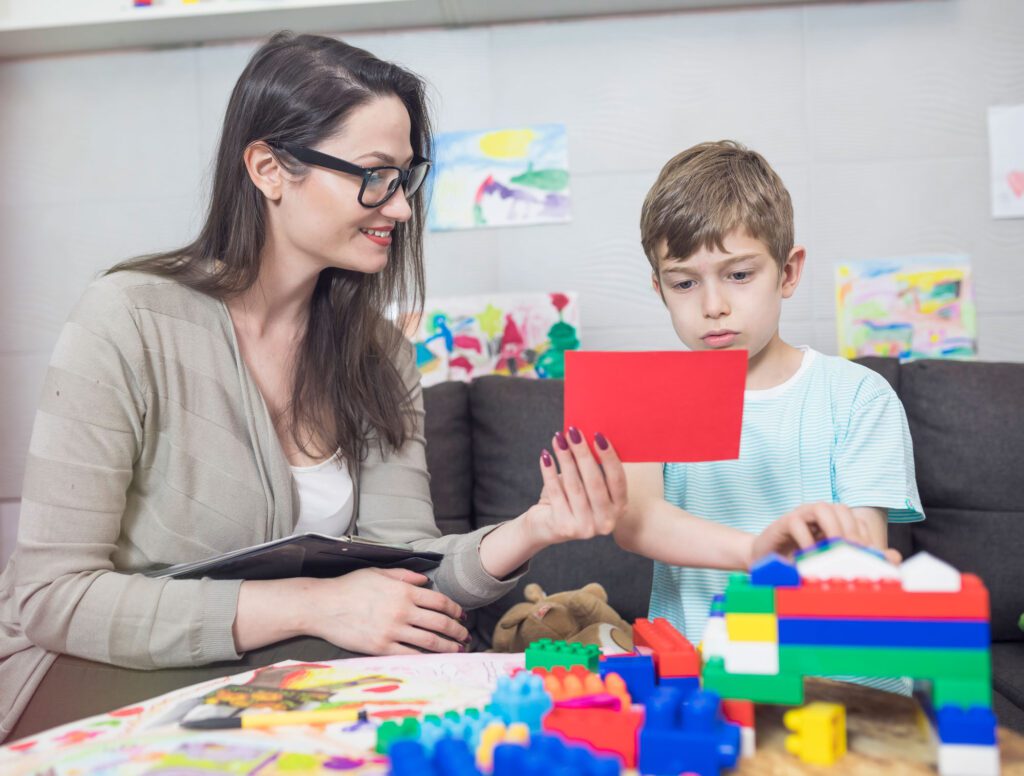 Our center is set-up to mirror real life situations to promote generalization to life beyond the center. At the center, your child is able to play and work with peers every day with similar skills and challenges. Our center is structured to allow for increased teachable moments within in a natural setting for optimal progress of specific skills. During sessions, our clinical team has the ability to modify the environment to meet the individual needs of all of our clients.
At our center, at least one Board Certified Behavior Analyst (BCBA) is always present. At any given time, our master's level clinical supervisors are available to provide consistent oversight for your child and the staff. Additionally, Clinical Supervisors and our Clinical Director are available daily to respond quickly to any questions, concerns or discussions around your child's treatment.
Assessment and Treatment Planning
Skipping Stones provides each child with a comprehensive behavioral and skills assessment conducted by a highly trained BCBA. Each assessment helps to identify their unique skills and challenges. Following the assessment, an individualized behavior support plan and either a focused or comprehensive treatment plan is developed to guide care over the next few months.
Parent/Caregiver Training
Parent/Caregiver training is time for parents/caregivers to meet with their child's clinical team to view progress, barriers, and to provide parents with knowledge and tools needed to support them in helping their child reach their full potential through the use of ABA strategies outside of their direct therapy services.
Social Skills Groups
Social skills groups provide children with an opportunity to interact with their peers and provide multiple learning opportunities to practice and navigate various social communication skills. Skipping Stones offers social skills groups for across various age ranges.
Play Group: ages 3-6
School Aged: ages 7-12
Teen Group: 13-18
*If a child is more developmentally appropriate for a group outside their age range, accommodations can easily be made.
Other Specialized Services
Behavior Assessments
School Readiness
School / Service Collaboration
IEP Preparation and Consultation
Behavior Management in the Classroom Workshops